Thursday, December 28, 2006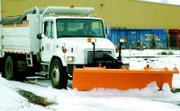 Whether it falls in the form of a soft powder or a mushy slush, snow is a fact of life in the Lower Valley.
We may not get as much as the mountains or even as much as Yakima a few miles up north, but the snow does fall here.
And the Lower Valley communities of Sunnyside, Mabton and Grandview are prepared when it does.
Sunnyside has a dedicated road crew of six employees who are always on standby for snow emergencies. All told, though, the city has 16 people available to help out with an especially heavy snowfall.
John Stanton of Sunnyside's roads department said the city has nine vehicles available, including four snowplows and one de-icing machine.
Public Works Director Jim Bridges said beginning this winter the city has gone to a liquid de-icer that is applied to the roadway.
"First of all we keep an eye on the long range weather forecast," Bridges said. "We apply liquid de-icer when we know an event is going to happen."
Bridges noted, for example, that it's crucial to get the de-icer down before a freezing rain hits because it will help prevent ice from sticking to the roadway.
Bridges said that, in turn, helps the city save money in paying less overtime and equipment costs for sanding roads, then additional manpower to clean the sand off the roadways.
Bridges said the city has a budget of $10,000 for snow removal in 2007. He said the city is well under budget for 2006.
When snow falls, especially as heavy as it did last Saturday, the city will at times lay down a layer of sand to battle slick spots that are already iced up.
It also must plow the snow to keep traffic humming through the city.
Sunnyside's primary snow removal route flows east to west along First Street between Alexander Road and Lincoln Avenue. From there crews clear Fourth, Sixth, Ninth, 13th and 16th Streets, as well as Yakima Valley Highway. The route also covers Edison and Lincoln Avenues, as well as Allen Road.
Bridges said the city has added N. 16th Street to its snow removal route to accommodate the new Sierra Vista Middle School. The snow route also encompasses the main roads leading to the Harrison Hill area, including Grandview Avenue.
The city of Grandview spends more on snow removal, about $20,000 per year, and uses more manpower in plowing snow to the center of the street before hauling it away to city parks.
Santos Trevino, a public works foreman for Grandview, said a grader is also used to make sure turn lanes are opened up as crews plow to the middle of the road.
Like Sunnyside, Grandview also uses de-icer. Trevino said city crews keep an eye on internet weather forecasts to help them know when to apply the liquid de-icer.
Grandview has a road crew of five people and a total of 10 employees who could be available to help out during a snow event.
To attack icy trouble spots, Trevino said Grandview uses crushed red rock instead of sand.
"It's easy to clean up and it breaks up pretty easy so it won't break a windshield," he says.
Grandview's snow plow route follows Wine Country Road to Division Street, then Second Street from Elm to Hillcrest. Trevino said the city's primary snow route also plows Euclid, Fir, Fifth and Grandridge.
Trevino said Grandview has a total of six rigs available for hauling and/or plowing snow.
"If it gets too bad we hire contractors to haul the snow away," he said.
Over in Mabton, Police Officer Mike Britton said city crews use a grader, a dump truck for sand and a backhoe. Britton said that Mabton plows snow to the center of the roadway and, when the white stuff piles too high it is hauled away, usually to a high school field.
Britton said the city uses a sand/salt mix after a snow storm and during icing conditions.
Mabton's primary snow plow/sanding route follows Main Street and includes all intersections, as well as Washington Street.