Tuesday, December 26, 2006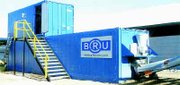 Plans are currently underway for Farmers Equipment Company to expand its business and open a branch here in Sunnyside.
Currently, the company has a branch in Lynden and Burlington.
According to Jonathon Hayter, who will manage the local branch, the opportunity to provide specialty products, equipment and technology to farms will now be at hand.
The new branch will be allowed to be a licensed dealership for Bauer products, US Farm Systems, Cadman and Nelson, all of which are leading manufacturers of slurry processing and irrigation machinery, said Hayter.
One unit that will be available here that will greatly benefit dairy farmers is Bauer's Bedding Recovery Unit. The unit composts course solids from cow manure into a clean, fluffy and non-odorous product for cows to use as bedding.
This is important, Hayter said, because cows enjoy sawdust for bedding and sawdust is getting harder and harder to come by.
"It (the BRU) was designed over a year-and-a-half ago to replace imported bedding material, like sawdust and sand. This eliminates importing (those goods) to the farm and simply uses what cows provide," said Hayter.
Bauer is a European company that has been in business for more than 75 years. So far, the bedding recovery units are only found stateside in New York and Wisconsin.
Hayter said that by using the state of the art equipment, it can allow a farmer to increase stocking density because nutrient loading on the land is decreased.
"Dairymen are looking for ways to decrease expenses right now," Hayter said.
Hayter said that the impetus for opening the branch occurred when a local dealer who was licensed to deal in the equipment decided to retire.
"This (Bauer dealership) and being able to become a US Farm Systems dealership for this area is what got us really excited about opening a branch for this kind of stuff," said Hayter.
The area served by Farmers Equipment Company includes the Yakima Valley, Columbia Basin, Quincy, Moses Lake, Pasco, Othello, and even into the Boardman, Ore. area.
Another product they'll offer is Cadman's Drag Hose Reel, which is specially designed as a supply hose to feed an injector system that will actually put slurry (cow manure) below ground, eliminating all odor.
Hayter said the dealership will serve dairies, feed lot operators and possibly canneries.
The division here will focus on Resource and Environmental Equipment, thereby being known as an REE division.
The division will focus on equipment designed for pumping, separating, spreading, composting and digesting slurry wastes, but will also seek to serve the demand for irrigation technology.
The division will be housed in what is now known as the Platt Electric building on Factory Road, and Hayter said he hopes the business will be ready for operation there by late February 2007.
.