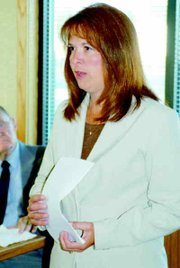 Yakima County real estate sales have not been impacted by rising interest rates. On the other hand, there could be dramatic increases in property tax rates.
That's according to the good news/bad news presentation County Treasurer Ilene Thompson and Assessor Dave Cook made to the Sunnyside Republican Club this morning.
Both Thompson and Cook are Republicans seeking re-election this fall.
Thompson told club members the county is considering ways to place real estate excise tax information on the internet.
Just yesterday there were 108 requests made by title companies for excise tax affidavits. Providing the tax information online, she said, would be a time saver for county employees and the general public.
That's especially true in the face of the county's ever-increasing popularity with property buyers.
"Properties are selling like crazy," she said, while noting that property sales in this county have not been impacted by rising interest rates. Thompson offered that the money put into the housing market is coming from sources like long term CDs and funds pulled from the unpredictable stock market.
Cook applied some statistics to the county's property boom, pointing out that Grandview and Sunnyside are seeing property value increases of 7 or 8 percent over last year. Some areas of the county are even looking at 20 to 25 percent increases, he added.
He warned, though, that there are two factors that could blemish this rosy picture.
The first is the number of newly tax exempt properties. As an example, Cook said 280 new exemptions were recently received for properties on Yakama tribal land.
As properties become exempt, the property tax load shifts in the form of higher taxes distributed to remaining property owners in the county.
It is not just a local problem, he told GOP club members, as statewide more than $28 billion in property valuation is exempt from property tax.
In response, Cook said he is appealing to the state legislature to tighten up laws that now allow more than 100 different reasons why the owners of land parcels can be exempt from property taxes.
A recent judicial ruling overturning Initiative 747 could be another blow to property owners.
I-747, voter-approved in 2002, limits taxing districts such as cities and school districts to raising property taxes by no more than one percent each year without voter approval .
With the initiative turned away by a King County judge, Cook said it is possible taxing districts could raise property rates by six percent next year in accordance with pre-I-747 limits.
It could get even worse, Cook said, if districts move to reclaim tax revenues lost to I-747 between 2002 and 2006. That could result in a one-time property tax hike of about 30 percent.
"This is a train wreck waiting to happen," he said. "The implications are horrific."
A request has been filed with the state auditor's office seeking to suspend the decision until the Washington State Supreme Court makes a final ruling in the case.
Otherwise, the county could be in a position of sending out property tax bills reflecting the higher tax rates sought by districts, only to have to turn around and issue a refund if the judge's decision is overturned.
"That would be a waste of property owners money and time," Cook told GOP club members. "Let's stop this train until we get a ruling from the Supreme Court."