Wednesday, September 14, 2005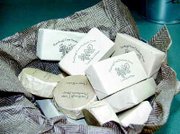 MABTON - Hop harvest is a season that brings to mind a lot of different sights and sounds for residents of the Lower Valley. Hop harvest means trucks loaded down with vines ambling down country roads, workers in the fields cutting the long, green vines and the sound of the processing plants, turning the vines into dried hops.
But in one area of the Yakima Valley, hop harvest means not only drying hops for use in things like brewing beer. It also means a chance to get a little creative.
Diana Puterbaugh of Mabton's Hops Direct offers several unique items from her Green Valley Road business. What makes the items unique is that each of the products prominently features hops as a main ingredient.
For the past several years, Puterbaugh and her staff have spent many an afternoon wrapping one of those products - hop soap. Puterbaugh said the soap, which is made with hop extract and other natural ingredients, is something her sister-in-law Teddi Bolt creates.
Puterbaugh said Bolt first lent her talents to Hops Direct several years ago, noting that she made hop soap for the business to give to clients as Christmas gifts.
"It keeps her busy and it complements what we do," Puterbaugh said of Bolt's efforts.
She added that the soap Bolt makes for Hops Direct can be purchased at Melange, and is made of just a few natural ingredients.
"All of the soap is made of really simple products," Puterbaugh said.
For instance, Hops-N-Roses, is a hop soap that is made of hop oil and shea butter, and features rose fragrance. Another soap, the Hop Garden Bar, has a lemony scent and features poppy seeds.
Another unique item that Hops Direct produces is something called pickled hop shoots.
Puterbaugh said in order to make the pickled product, hop shoots are stripped from the vine and taken to a cannery in Sunnyside, where they are processed and placed in the seasoned brine.
Although many people may not know what to do with pickled hop shoots, Puterbaugh said one Milwaukee brewery has found a very interesting use for the locally made product. According to Puterbaugh, the Milwaukee Ale House in Wisconsin buys three gallons of the pickled hop shoots a week for use in a drink called an Ale Mary. She said the drink is a Bloody Mary-style beer beverage.
Puterbaugh said the idea to first pickle hop shoots came from her father-in-law, who during a trip to Belgium was served a salad dressed with hop shoots. She said when he got back to the United States he brought the idea back with him, and talked to at least one person in the area who had tried pickling hop shoots but had little success. Puterbaugh said she and her husband, Stacy, decided to give pickling hop shoots a try, and contacted a cannery in Sunnyside.
"We figured we would try it and see what we got," Puterbaugh said.
What they got was a pickled delicacy, made with locally grown hops.