Wednesday, September 14, 2005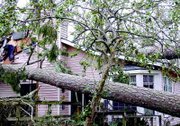 MABTON - Going to church on Sunday sparked a grassroots effort by Mabton hop farmers Diane and Stacy Puterbaugh to help victims of Hurricane Katrina.
The Puterbaugh family has a close connection to the hurricane since Stacy has three cousins living near New Orleans.
Though all the cousins are fine, all were made temporarily homeless by Katrina. In Mandeville, La., across Lake Pontchartrain from New Orleans, Katrina hit home as Stacy's cousin Jean and her husband Irv, both retirement age, had their home partially destroyed.
Some of Stacy's cousins traveled from Chicago to help relief efforts after Katrina hit and reflected on conditions in Mandeville and the New Orleans area.
"It is very hot and humid down there. Jean and Irv are staying at some friends who didn't have damage, but without electricity no one has air conditioning," Stacy's cousin's wrote in an e-mail. "Unfortunately there is a lot to do and contractors and supplies will probably be hard to come by over the coming months."
At church on Sunday - Blessed Sacrament Catholic Church in Grandview - the Puterbaughs learned of a sister church in Pine Prairie, La., near Lafayette, aiding hurricane victims.
Coincidentally, the priest at St. Peter's in Lafayette went to seminary school with Grandview's priest, Gary Desharnais.
"The opportunity to help came up at church on Sunday and it just happened to be in our family's (Stacy's cousins') back yard," said Diana.
The Lafayette church is currently feeding, clothing and helping to house between 1,000 to 1,600 hurricane victims each week. To aid those efforts, the Puterbaughs and other Grandview church members have begun collecting food and clothing for the victims.
"We felt there were so many people in the community wanting to help, so we decided to put it on a truck each Friday and ship it out there," Diana said.
Already, two pallets weighing in at a combined ton are ready for pick-up this Friday and the Puterbaughs intend to collect clothing and non-perishable food items for the foreseeable future.
Food items needed include canned fruits and vegetables, peanut butter, crackers and cup of soups. "Anything that can be opened and served will be greatly appreciated," Diana noted.
She said Roadway has agreed to truck the weekly collection at a vastly reduced price. Stegeman Electric, she added, has agreed to fund whatever costs may be associated with hauling the donated items to Lafayette.
Financial assistance for the Lafayette parish's efforts can be sent to:
St. Peter's Parish
Attn: Father Richard Broussard
P.O. Box 709
Pine Prairie, La. 70576
Checks should be made to St. Peter's with notation that the funds are for hurricane relief.
For more information on the Puterbaugh's relief efforts call 837-3616.
Donations can be delivered to the Puterbaugh's farm at 686 Green Valley Road between 8 a.m. and 5 p.m., Monday through Saturday. A Roadway trucking shipment of donated goods departs every Friday for Louisiana.
"Our heart just goes out to them through this ordeal," Diana said of Katrina's victims. "Little by little, we pray that life will become more normal for them all. I encourage folks to pray and support these people who are just like you and I."