Thursday, September 8, 2005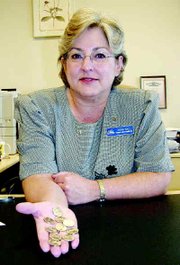 Five cents a nickel make, but a new one out these days may cause a double-take.
Dubbed the Ocean in View nickel, the coin was issued last month as part of the U.S. Mint's Westward Journey Series.
Commemorating the bicentennial of Lewis and Clark's expedition west, the Ocean in View nickel is the fourth installment in the series.
"Some people are saving them but there seems to be more collecting the state quarters," observed Linda Leppanen, Customer Service Manager for Bank of the West in Sunnyside.
Previous nickels in the new series featured Peace Medal and Keelboat, released in 2004, and American Bison, minted in February 2005.
Like American Bison, Ocean in View features President Thomas Jefferson on the obverse - or head - of the coin.
While the third President is usually featured on the nickel, the new coins are unique in that Jefferson's profile is on the left edge. The word "Liberty" appears to the right in Jefferson's original handwriting.
"It's one of the few times that a profile is not centered on a coin," noted Leppanen.
The Ocean in View nickel indeed has the ocean in view on the reverse with an etching of the Pacific Ocean coastline.
Its reverse, or tails' side, is also inscribed with "Ocean in view! O the Joy," which was Captain William Clark's journal entry when he reached Pacific Northwest waters.
The Westward Journey series, approved by Congress and President Bush in 2003, represents the first redesign of the nickel since 1938.
In 2006 the nickel will revert back to the original design with a centered profile of Thomas Jefferson and an inscription of his home, Monticello, on the reverse.
Called Return to Monticello, the 2006 nickel will be the final installment in the Westward Journey series as it represents the safe return of Lewis and Clark from their 8,000-mile round-trip trek.
The Ocean in View nickel should be available at local banks. Bags and rolls of the nickel may also be ordered at www.usmint.gov or by calling 1-800-USA-MINT.