Thursday, October 6, 2005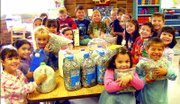 by Frances Potts
On the premise that it is never too soon to learn about lending a helping hand, teachers at United Methodist Pre-School presented an idea to the 19 children who attend there.
"We wanted to teach them about helping other people," said Mary Schlenker, who researched how aluminum pull tabs from pop cans could be used to benefit kidney dialysis patients.
The response the teachers received showed that it was a lesson well learned.
A table in the children's classroom was weighted down Wednesday with gallons and gallons of pull tabs they have collected just since school opened Sept. 6, 2005.
"Not only have they collected these pull tabs, but they filled four 84-ounce jars over the summer. I have already turned those in," said Schlenker, who directs the pre-school program.
The pull tab project is the brain child of Schlenker, who contacted Mario C. Ledesma, R.N., administrator of Mt. Adams Kidney Center in Sunnyside. Ledesma put her in touch with Peggy Simpson of DaVita Kidney Center in Yakima and the project was underway.
When the collected tabs are turned into the Yakima center they are sent on to a processing company which recycles the aluminum pull tabs, which are the heaviest part of a pop can. The money earned from recycling goes into a fund to ease the burden of the high cost of dialysis for kidney patients
"They try to keep the money in Washington, but, realistically, it will go all over the country wherever it's most needed," said Schlenker.
When the program was first started at the pre-school, the children collected tabs for a fellow classmate.
"We collected them for a child in the program who was on a kidney machine, but she's living a healthy and normal life now," said Schlenker, beaming.
Through referrals from doctors, friends and relatives, the pre-schoolers have been able to collect tabs for 10 specific families. Now that those families no longer have a need, the children's donations go directly to the Yakima center for general distribution.
Teacher Tony Castillo and Jan Epps, substitute teacher, help oversee the project, which the kids say they aren't about to give up.