Wednesday, November 23, 2005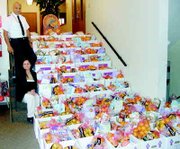 GRANDVIEW - Sixty boxes of food were on the way out of the Salvation Army headquarters in Grandview yesterday.
The food packages-each weighing about 45 pounds-were earmarked for delivery to help pre-selected families have a healthy, happy Thanksgiving meal.
"In each box you'll find the food pyramid established by the government," said Roberto Matus, Corps Officer of the organization in Grandview.
Every box will contain fresh fruit and vegetables, as well as a frozen turkey.
"We prayed about the turkeys," said Gracie Barrera, office manager.
"And at the very last minute, we had a donation of 80 turkeys," said Matus.
The 20 birds that weren't put into the Thanksgiving boxes will make up part of the Christmas food packages the Salvation Army will be giving out in December. "And we'll pray that we get enough turkeys to fill the 300 boxes we'll be distributing for Christmas," Matus said.
An additional touch-a gift sack of holiday wrapping materials-was added to the boxes to enable the receivers to give to others.
Grandview Middle School had earlier collected close to 3,500 pounds of canned food, which is being used for the holiday food boxes, which were assembled by students from Compass High school in Grandview. World Vision, a Seattle-based, Christian, non-profit organization, donated the new boxes in which the food was packed.