Wednesday, November 16, 2005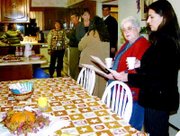 The warm glow of lighted windows reached through the dark to welcome guests to the Sunnyside Business After Hours networking event last night at Lower Valley Hospice and Palliative Care.
Joel Stephens, executive director, was on hand to introduce the organization that brings compassionate services to terminal patients at the end of their lives.
The open house from 5:30 to 7:30 p.m. included a tour of the building in which Dr. John Allen, four nurses, a social worker, two aides, an outreach referral coordinator and a volunteer coordinator spend hours helping families and patients through difficult times.
The evening was just one in a string of Business After Hours the Sunnyside Chamber of Commerce sponsors to bring its members together to get to know one another and each other's businesses, and to form a network that can be helpful in their respective business worlds.
Julia Friend, who attended, is one who is finding networking to be an advantage to the new business she manages in Sunnyside, TLC Inhome Care. Friend said she has already received several referrals from Hospice.