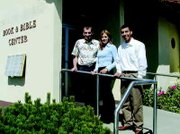 Saying its new location will improve the image of the Sunnyside Economic Development Association (SEDA) and the Sunnyside Chamber of Commerce, Rado Harrington, who serves as executive director for both groups, announced Wednesday that the two offices will be relocating to 700 S. Sixth St.
For the past nine years the Chamber and SEDA have shared office space with Port of Sunnyside administrators at 528 S. Seventh St.
Saying the Chamber and SEDA have outgrown the South Seventh Street location, Harrington said the agencies' mutual boards of directors have approved the move.
"We will be officially relocated at this location on Aug. 1," Harrington said.
He said the community's grant writer will also be located in the 700 S. Sixth St. location. The grant writer is employed via a partnership between the Port of Sunnyside, Sunnyside School District, City of Sunnyside and Sunnyside Community Hospital.
The Chamber of Commerce will be located in the front half of the South Sixth Street building, which until recently housed Songs of Praise Book Store.
The SEDA office will be located in the rear of the first level of the building with space for a large conference room, Harrington said. The grant writer's office will be located in the lower level of the building.
He said plans call for placing a huge Chamber logo on the outside of the building, announcing it as the community's gateway to downtown.
Harrington said the move will help to enhance the goal of both agencies' efforts to improve and recruit business and tourism to the community.
"I believe the location will give SEDA and the Chamber a better image and allow the community to embrace both agencies," he said.