Monday, February 28, 2005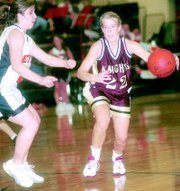 ELLENSBURG - If you had talked to fans of the Sunnyside Christian High School girls basketball team a month or so ago, many of them probably would have said they would be preparing for the spring sports season by now. Heck, even Lady Knights head coach Al Smeenk was reluctant to talk about the hopes of his team returning to the State tournament at the Spokane Arena, where Sunnyside Christian placed fifth last year.
But shouldn't we know by now not to put anything past the little ladies from Sunnyside Christian High School because what they lack in size, they sure make up for in heart. A prime example of the heart of the Lady Knights can be found in their performance this past weekend.
Facing two loser-out games, the Knights overcame two of the toughest 'B' girls teams in the State at Ellensburg High School to grab the third and final berth out of the Region to go to this week's State tournament in Spokane. The Lady Knights go in as a two seed and are in the top half of the bracket, opening the State tournament Wednesday against Toutle Lake (22-2) at 12:30 p.m.
"They did what they had to do," said Smeenk of his players. "I was really pleased."
Friday's first loser-out game had things looking rather hopeless for the Lady Knights, as they would face Entiat in a loser-out game. Entiat finished the regular season ranked ninth in the State. Entiat had been ranked as high as third in the State at one point in the season.
Entiat might as well have been ranked 100th because the Lady Knights had their way Friday night.
The Lady Knights never trailed against Entiat, posting a 59-44 win.
"They had quite a few scorers, but nothing outstanding" said Smeenk of Entiat.
In fact, the leading scorers for Entiat, Kami Yacinich and Stacey McDonald, each only had 9 points apiece.
Smeenk went into the game knowing that Entiat had quick guards and liked to press. One thing different, said Smeenk, is that Entiat likes to collapse on players grabbing a rebound in hopes of a turnover. But the long-time Lady Knights coach and his team were prepared Friday night. Smeenk said he had his players simply kick the rebound out and get the Lady Knights' transition game working, which took Entiat out of its game plan.
Entiat also didn't run a very effective 2-2-1 full-court trap Friday night.
"We handled their pressure," said Smeenk.
After having to go to the hospital for fainting earlier in the day, Tyssyna Van Wingerden gave an incredibly gutsy performance Friday night, scoring 18 points and grabbing 14 rebounds.
"She is a leader," said Smeenk of Van Wingerden. "She had a tough day Friday."
Sunnyside Christian's Amy Mensonides also had a big night on the boards, grabbing 13 rebounds while scoring 7 points.
The Lady Knights embarrassed Entiat on the boards. Sunnyside Christian outrebounded Entiat 38 to 19.
Smeenk said Friday was a real team effort for the Lady Knights. He said his players showed how well they are capable of playing.
Smeenk said there wasn't any particular moment that stood out in the game. The Lady Knights just kept playing solid ball and building on their lead.
"This weekend was a team effort," said Smeenk. "Our leaders stepped up, but the others all contributed."
With a State berth on the line, the Lady Knights backed up Friday's performance, bouncing Riverside Christian from the postseason with a dominating 53-40 victory.
The Lady Crusaders had beaten Sunnyside Christian twice before in the season.
The key in this game was that Sunnyside Christian found a way to take out the big three of Riverside Christian-Sharelle Wells (the Greater Columbia 'B' League player of the year), Mary Labbee and Katie Van Beek.
Van Wingerden gave another solid performance for Sunnyside Christian on Saturday. The Lady Knights' senior had 17 points and 14 rebounds, her second double-double of the weekend. Van Wingerden's performance was complimented by a noteworthy outing from Emma Hernandez, who had 14 points.
The only close quarter in the game was the opening period, which Riverside Christian won 11-10. The Lady Knights had five turnovers in the opening quarter.
Smeenk said determination is probably the best word to describe his team's performance on Saturday. Determination backed up with solid defense held the heart of the Lady Crusaders' line-up to just 27 points. Van Beek was the only Lady Crusaders to really have a good night, scoring 17 points. However, 7 of Van Beeks 13 points came in the fourth quarter.
Riverside Christian couldn't stop Van Wingerden in the second quarter, as she scored 7 of team's 12 points. Her younger sister, Tori, had a big outing in the Lady Knights 18-8 third quarter run, scoring 8 points.
Riverside Christian was out rebounded 38 to 26, but the Lady Crusaders did have some success, snagging 13 offensive rebounds.
Smeenk said he wrote the game plan out for his team and they followed it to near perfection over the weekend.
The Lady Knights will be looking to knock off another State ranked team in the opening round of the State tournament this Wednesday at 12:30 p.m. in the Spokane Arena. Toutle Lake finished the regular season ranked 10th in the State.
Smeenk said Toutle Lake is much like his girls, quick, short and aggressive. The winner of this game will face the winner of the King's West/Almira-Coulee Hartline game at 5:30 p.m. on Thursday.
"This (going to the State tournament) is a complete surprise," said the proud Sunnyside Christian coach "We will play anybody."
1 2 3 4 T
Entiat 6 16 9 13 44
SCHS 11 18 10 20 59
Scoring: SCHS-Tyssyna Van Wingerden 18, Emma Hernandez 14, Tori Van Wingerden 8, Amy Mensonides 7, Carly DeGroot 6, Jordi Roberts 4, Courtney Rice 2.
Entiat-Kami Yacinich 9, Stacey McDonald 9.
Rebounds: Tyssyna Van Wingerden 14, Amy Mensonides 13.
1 2 3 4 T
Riverside 11 8 8 13 40
SCHS 10 12 18 13 53
Scoring: SCHS-Tyssyna Van Wingerden 17, Emma Hernandez 14, Tori Van Wingerden 12, Carly DeGroot 6, Jordi Roberts 2, Brittany den Hoed 2.
Riverside-Katie Van Beek 13.
Rebounds: Tyssyna Van Wingerden 14.