Tuesday, February 15, 2005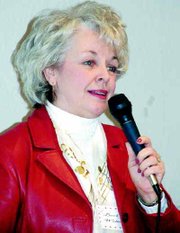 PROSSER- Talking about the disillusion of marriage might not seem like an appropriate topic for a Valentine's Day program for a women's club luncheon. But when the discussion leads to finding joy, not just in one's marriage but in one's spiritual life, a happy ending is the ultimate story.
Such was the case when Idaho resident Becky Weber addressed the members of the Lower Valley Christian Women's Club Monday afternoon.
Weber, the author of several small books on finding peace through one's walk with God, told the group gathered at The Barn Restaurant in Prosser of her lonely youth. She told of her eventual marriage to the "man of her dreams."
"But, as most of us know, the honeymoon didn't last long when I began to see we were complete opposites," she said.
"He didn't and couldn't meet my every need and desire as I had expected him too," Weber said.
"I moved into what I call my dimension of being a disillusioned homemaker," Weber explained.
"I became a 'robe-a-holic'. You know, the woman who wears a bath robe all day, watches soap operas and throws together a dinner for her family at the last minute from a couple of cans," she said.
"I was living in a hopeless pit, too depressed to pull myself out," Weber said.
It wasn't until she sat in the woods on a forced camping trip that she finally asked God for direction out of her depression.
The prayer was the beginning of her turn toward a happy ending. But the path wasn't a straight one. It took what she called a wrong turn when her husband left her just two weeks after that miserable camping trip.
"My world was torn apart. How could this happen to us," she asked.
But the answer to her question was not to be revealed until months later when she was sitting in a dentist's chair.
"I saw a pamphlet entitled Why God Allows Trials and Tribulation. I put it in my purse. It was from that publication I began to realize and understand why I was disillusioned, why my life had sunk so low," she explained.
"I discovered that God's plan means that in order for me to overcome heartbreak I had to become centered on God. I couldn't focus on the bad things, but I had to put my faith in God's love for me," she explained.
It wasn't long after that Weber began attending a small church in her community. "Jesus became the center of my new dimension. I began to understand his message of hope and understand that we all fall short, but with God's love we have forgiveness," she explained.
Weber and her childhood sweetheart remarried and even though, they still had all the problems life throws at God's people, they began to work together. Eventually they came to understand that God's love is like a giant gift exchange, Weber explained.
"We give Him our bitterness, and He gives us love, we have pain and He gives us hope, and when we have fear, He replaces it with courage," Weber explained.
She and her husband, Scott, have now been married 30 years. "He became a Christian 13 years after we remarried," she said.
"God doesn't make our daily or major crisises go away," Weber cautioned.
"But with our faith and love in God, he walks with us through those bad times," she said.
"We're complete in God's love and it's our challenge to be the best we can be," she added.
"With Jesus along side of us, we won't get lost and we won't be disillusioned."