Friday, February 11, 2005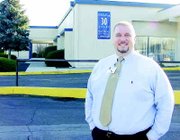 There is someone new at the helm of Sunnyside's Central Washington Comprehensive Mental Health agency. For just a little more than a week, Chris DeVilleneuve has been working as the new site director at the local office.
DeVilleneuve may be new to the Sunnyside facility, but he is no stranger to the needs of the Lower Valley. DeVilleneuve said before taking the position as site director he served as access team leader for Central Washington Comprehensive Mental Health in Yakima. He said through that position he worked with all of the agency's patients, getting them in for initial assessments. It was through this position that DeVilleneuve found himself regularly spending several days in week at the Sunnyside facility.
DeVilleneuve, who is currently working to finish his Master's of business administration degree in health care management, said he took the position because he is interested in doing both administrative work and working closely with clients.
DeVilleneuve got his first taste of what a fast-paced position he is in nearly a week before he officially started. DeVilleneuve said he was in the office Jan. 26, when the chemical fire was sparked at the Wilbur-Ellis facility in Grandview. He said he hit the ground running, working to ensure that his staff helped where ever they could.
Offering community support is something DeVilleneuve said he is interested in doing as the new site director. He said he wants to continue to build partnerships, working with everyone from the local hospitals to the school district.
"I want to continue to develop community resources," DeVilleneuve said. "I want to work with people to meet the needs of everyone in the community."
DeVilleneuve is a native of the Tri-Cities, but has lived in Yakima for the past six years. He holds a Bachelor of Arts degree in psychology and sociology, as well as a Master's degree in business. He has worked in the mental health field since 1990.
"I love working with people and the opportunity to watch people improve," DeVilleneuve said of why he continues to work in the industry. "You can have such an incredible impact on people."
DeVilleneuve, who is married, said he thinks the biggest challenge facing him in his new position is going to be to continue to provide the best possible services while facing changes to both Medicare and Medicaid.
So far, DeVilleneuve said he has had a busy first week on the job. He said he has been meeting with staff and working to set priorities, as well as trying to meet with representatives from other community entities.