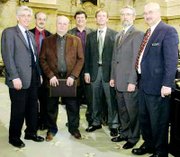 OLYMPIA - Fifteenth District Reps. Bruce Chandler (R-Granger) and Dan Newhouse (R-Sunnyside) hosted board members of the Washington State Dairy Federation this past Wednesday at the annual Dairy Day held in Olympia.
Three local dairy farmers, LaDon Linde of Outlook, who is the president of the Dairy Federation, and board members Tony Veiga and Dan DeGroot of Sunnyside attended the event.
When meeting with the dairymen, Newhouse and Chandler praised the farmers for the dairy industry's positive role in Washington's economy.
"It's great to have a day set aside to honor the many contributions made by Washington dairy farmers," said Chandler. "We appreciate the entire agriculture industry and dairy farming is an important part of that industry in Washington and in the Yakima Valley."
Chandler and Newhouse pointed out that the multi-billion dollar industry stretches beyond the dairy farm, creating jobs in the community. The representatives shared with the farmers that for every $1 million in finished milk product processed in the state the repercussions are great, adding 20 jobs to the state's economy.
"The hard work and dedication of the dairy families in our state have given so much to the strength and vitality of our economy," said Newhouse. "The discipline and responsibility of running a dairy farm is no easy task."
Both Chandler and Newhouse pointed out the importance of the dairy industry to Washington state and that they're committed to keeping agriculture a viable industry in Washington.
Washington is ranked 10th in the nation in milk production. About 5.6 billion pounds of milk is produced annually in the state, bringing in about $4.5 billion to the state's economy.