Monday, December 12, 2005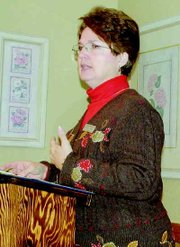 "There's no place like home," said Toni McBean of TLC In-Home Care during a presentation to Sunnyside Kiwanians Wednesday morning.
McBean said she opened her Yakima-based agency, which opened a Sunnyside office at 1521 E. Edison Ave., because of the need she saw for quality care for the elderly.
She noted, for example, that a 65-year-old man typically has another 15 years and a woman 20 years. "The fastest growing segment of our population is those 85 and older," added McBean.
And it's the 80's when most people begin to need assistance, she noted.
"There are 54 million family members or friends in this country providing care," McBean explained. "At some point they reach burn out."
The key, she said, is to plan early with living will and power of attorney documents while loved ones are still able to express their wishes.
While TLC In-Home Care provides services ranging from cooking and shopping to bathing and feeding, other options are available as well.
These include nursing homes and assisted living centers. The big change in the nursing home industry, she added, is the use of them as transition points for people recovering from hip surgery, for example.
McBean also provided suggestions on indications that an elderly loved one may be in need of assisted care, such as changes in eating or buying habits and withdrawing from friends and relatives.
Even with a few hours a day of in-home care, McBean said the quality of life can improve tremendously.
"Poor nutrition is one of the things that puts people in nursing homes," she said. "I know it may take people time to get used to having someone in their home. But once we get a foot in the door they begin to appreciate the meals and care."