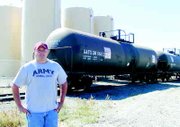 GRANGER - Fifty-eight days. That's all the time it took for Quality Liquid Feeds to build, move into and begin production at its new Granger facility.
Quality Liquids Feeds started production of its molasses-blend liquid supplements the beginning of June, at a new plant located at the end of Bailey Avenue in Granger.
Dan Stanhope, district sales manager for Quality Liquid Feeds, explained that the company manufactures molasses-blend liquid supplements, which are then distributed to area feed mills and dairies.
Stanhope said the company receives shipments of raw molasses from Louisiana Sugar Cane Products and blends the raw material with other ingredients, which creates the liquid supplement.
The move to Granger marks the Dodgeville, Wisconsin-based company's latest expansion out west. Stanhope explained that before moving into Granger the company's most westwardly location was near Phoenix, Ari. He said when the company first began operations in the mid-1970s, it was started with the idea that it would expand westward as it grew.
"And this is the newest expansion," Stanhope said.
He noted that the company has nine manufacturing sites throughout the United States. He explained that one of the reasons the company chose to move to Granger is because of the large concentration of dairy cows.
Reyes Villarreal, manager of the Granger plant, noted that local dairies have been the company's number one customer.
Stanhope explained that bringing Quality Liquid Feeds to Granger has opened up the Yakima Valley market to the company. He said previous to the Granger site opening, the company had not been serving the Valley.
Stanhope noted that the Granger facility employs two full-time staff members, including Villarreal.
He explained that the company is able to operate with just two employees because so much of the manufacturing process is automated. Villarreal explained that the raw molasses is brought in via railroad and piped into several large tanks before other materials are added to it to make the liquid supplement. The supplement is then transported out of the facility via semi-trucks and delivered to the various dairies and feed mills. Villarreal said the supplement is typically sprinkled over an animal's regular feed.