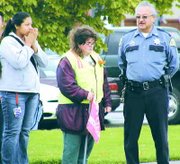 Standing not much taller than some of the middle school children waiting for her "go-ahead" to cross the busy South 16th Street, Carolyn Shifflett of Sunnyside commands attention as she steps out into the street with her school crossing flag.
Since the start of the current school year, Shifflett has been a regular presence out in front of Harrison Middle School, where upwards of 1,000 children pass on their way to and from school.
Shifflett began volunteering her time as a crossing guard as a way to ease her grief over the tragic death of her husband, Ronnie, this past July. Her husband was killed in a pedestrian-automobile accident. For most of 11 years, the friendly school volunteer helped youngsters cross the street safely during the school years.
Now it's Carolyn's turn to halt traffic for the children.
"He loved being a volunteer crossing guard at Harrison Middle School," she explained.
"He taught me how to be a good crossing guard, to be firm and to smile," she explained.
"He always said to smile because sometimes it makes the day for the kids."
Plus, she likes working at the crosswalk. "It's easier for me because of him," she said. "I watched him and I just do what he did."
Still, the decision to become a crossing guard volunteer wasn't an automatic one.
"I knew the school needed a crosswalk volunteer to replace Ronnie at that spot," she said.
"I had heard that Chico Rodriguez (the middle school's resource officer) was having trouble finding a replacement volunteer to help out with traffic control," she explained.
"He couldn't get anyone to take over the spot. When I finally suggested I could try out for the spot, Chico was very happy. He said I was a blessing," she explained.
In recent weeks, Shifflett hasn't been able to be at the corner as often as she'd like.
"I got a job working, sorting potatoes in Prosser for a few weeks," she said. "But as soon as I'm done I'll be back at the corner as much as possible," she added.
Shifflett admits that being a crosswalk guard is a big responsibility. "It's not easy," she said.
"You have to watch the cars as closely as you watch the children," she said.
"It really keeps you on your toes."
.