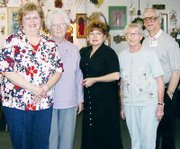 Charlene Maling has not only been named the Sunnyside Community Hospital's outstanding auxiliary member of the year, she has been re-elected auxiliary president.
She and her fellow officers were feted during installation ceremonies held May 13, at the Cactus Juice Cafe in downtown Sunnyside.
In addition to Maling, officers include Theresa Wiggins as treasurer, Yolle Widdows, vice president, Edna Bustraan, historian, Gordon Edes, gift shop manager, Tina Glockner, corresponding secretary and Gloria Butler, recording secretary.
The Sunnyside Community Hospital Auxiliary, which is involved in year round fund- raising efforts to benefit the hospital and to fund its annual health care scholarship program, also announced the recipients of its health care scholarships at the May meeting.
Maling said a total of $10,000 was awarded for the 2004-05 academic school year in scholarships to the six recipients.
Nursing scholarship winners and their schools are as follows: Rosey Ramos, Nora Salazar, Gretchen Mallery and Eleanor "Jan" Epps, all attending Yakima Valley Community College Nursing; Kristen Dill, University of Washington; and Lissa De Groot, Seattle Pacific University.