Wednesday, March 10, 2004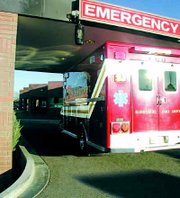 Parents who have affordable access to health care for their children are less likely to take their children to local emergency rooms for non emergencies, according to a new study by the American Academy of Pediatrics.
Children with access to a pediatrician are almost 75 percent less likely to visit an emergency room for routine health care if they are insured.
But for 130,000 low income Washington families and their children, health insurance is a luxury item. As a consequence, families postpone seeking care, putting their children at risk.
Children who lack access to health insurance are less likely to have regular immunizations or have any developmental delays detected. Unmet health care needs reduce a child's ability to do well in school and tend to be expensive in the long run, according to the study.
In the Lower Valley, nearly 40 percent of the children who visit the Sunnyside Community Hospital's emergency room each week don't have even the cheapest of preventative health care coverage. Even though many low income families are covered by the state's Basic Health plan or by Healthy Kids programs, there are still a large portion of the Valley's children whose families can't afford health insurance, said Yolle Widdows, welfare coordinator at Sunnyside Community Hospital.
"We see them in our emergency room all the time," she said. "They are the families who must pay emergency medical costs out of pocket, a cost they can't afford," she said.
Widdows, who works to help families find adequate health care coverage in order to pay for their emergency room visits, finds the job to be frustrating. "The state health plan is not currently accepting more applicants. In addition, many of our patients don't qualify for the state programs.
"Still, we try to find some kind of coverage for the children. But it is difficult," she said.
Widdows works closely with state programs and groups like the Yakima Farm Workers Clinic in Grandview. "We put a lot of names on a waiting list for state coverage," she said. "It's a long list."
Widdows said she works with the Yakima Valley Farm Workers Clinic to help families receive preventative health care check-ups. "There are programs for the children, but sometimes even low cost insurance coverage can be expensive," she said.
Widdows and other children's health care advocates are hoping state lawmakers will roll back the cost of health insurance premiums it now charges low income families.
Basic health care premiums have been as low as $10 per month, but premiums have jumped to $25 per child recently, said Widdows.
There is talk of the premiums going up to $30 a month per child," she said.
A family of four earning $1,000 a month could be paying upwards of $125 a month for just the basic coverage, if they are even eligible for the coverage, Widdows explained.
"We also have a lot of families who are not eligible for coverage because they are undocumented," she added. "We still try to get the children some coverage, but it's not easy," Widdows said.
Helping to find health care for the uninsured children is also the job of Christy Lopez of Grandview's Yakima Valley Farm Workers Clinic. "The increases in premiums is hurting families," she said.
Lopez, who is the clinic managed health care director, said she is hoping the Governor's plan to roll back premiums is approved by the legislature.
"We have a lot of children who just don't have health insurance and the numbers continue to grow," Lopez said.
Currently, Lopez said there are more than 5,000 Lower Valley families on the state's health care waiting list. "What are they to do in the meantime," she asked.
Helping to encourage the state lawmakers to keep costs of health insurance low is Tom Vasquez of the Washington Citizens Action advocacy group.
"The American Academy of Pediatrics report confirmed what we already know. Health care provided via the emergency room is very expensive. It shouldn't be the only health option families have," he said.
"Even a change of $10 or $15 is going to be enough to force families to drop their coverage," Vasquez said.
"More children are going to end up in the emergency rooms being treated for things that should be taken care of through routine care.
"We all know that emergency room care is the most expensive option, but what choice do uninsured families have when illness occurs," he asked.
Increasing health insurance premiums for families already at the poverty level will limit routine care coverage for the more than 24,000 who have even the most basic of health care, Vasquez said.
He said the legislature did delay the increase in children's premiums in January. "But we still expect them to go up," he said.
Vasquez said if the premiums are raised, more children will go uninsured. "The strain on emergency rooms will increase when emergency room care shouldn't be the families' only health option," he said.
"We think the Governor's plan to roll back the premiums makes the most sense. If the state lawmakers decide to increase the premiums, it will cost the state more in the long run," Vasquez said.