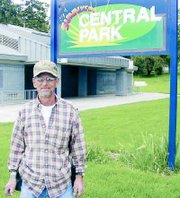 Described by those who know him as a man with a zest for life, Luigi Rosal admits working at the Sunnyside city parks is never a chore.
"I love working outdoors and can't imagine being inside all day," said the Sunnyside parks long-time groundskeeper.
Rosal, who has worked for the City of Sunnyside the past 25 years, now oversees the city's network of parks, from Central Park with its Olympic size swimming pool to SunnyView Park with 32 acres of softball and soccer fields.
"I've been fortunate to have good people to work with me," he said.
Rosal, originally from Vallejo, Calif., worked in parks in Vallejo for 11 years before bringing his family to the Yakima Valley.
"I was looking for a place where I could improve my family's quality of life," he said.
"It was very busy and congested in Vallejo," he said.
"And if I want the excitement of living in the city, I can always drive to Seattle or Portland," he explained.
"But I'd rather be outdoors, hunting or working in my own yard," he grinned.
Rosal was recently selected as the Sunnyside Chamber of Commerce's 2004 Outstanding Public Employee based on his industrious and pleasant attitude and reputation for being helpful with park patrons.
Rosal was named city park supervisor in 2003. He manages a crew of two part-time people, plus the two jail trustees who are let out of jail to help with the grounds keeping.
In addition to the parks and the city pool, Rosal's crews oversee the maintenance of the new Sunnyside Community Center, and the network of city pathways.
"It's a challenging job," he admitted. "But I like it."
Rosal and his wife, Nita, who operates Nita's Fine Arts Ceramics on South Seventh Street in Sunnyside, have four children and 10 grandchildren.
A daughter died in 1996, Rosal said. "I carry her around in my heart," he said.
Rosal said his job is to make sure the parks are always in good general appearance.
"That's what we try to do every day."