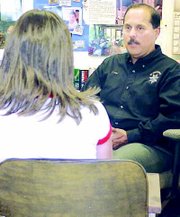 17-year-old "Sue" (her name has been changed) wants to make a difference in the lives of teens.
It's not because of the statistics that say the leading cause of death for those between 15 and 20 is traffic crashes. Or because, according to a survey by Mothers Against Drunk Driving, that says that more than 2.5 million teens don't know they could die from alcohol poisoning.
She knows how alcohol can affect teens and carry through their lives.
Her real dad is an alcoholic, who started drinking at age 13.
"Because of that I can't see him any more," said Sue.
According to Mabton Police Chief Raul Almeida, an estimated 6.9 million American juniors and seniors in high school can walk into a store and buy their own alcohol. He added that 12 percent of teens are believed to be provided alcohol by their parents.
Sue, a police volunteer, knows of drinking parties kids she attends high school with attend and she has friends and classmates who drink, but she is working to curb the source of alcohol to teens.
A regular high school student, Sue likes hanging out with friends and talking, but she foresees having a career as a sheriff's deputy and working undercover gives her some of the experience of police work while fighting underage drinking.
"I'm tired of under-aged drinking," said Sue, who looks as if she's 15. "I always hear about parties and it gets old."
The Yakima area high school student is one of several teens volunteering with the Yakima County Traffic Safety task force to conduct compliance checks of local merchants selling alcohol. She's also with the group FAME, (Furnishing Alcohol to Minors Enforcement), also known as "shoulder taps."
According to Almeida, with compliance checks, Sue and other teens like her will enter a market or bar and attempt to purchase alcohol from the establishment.
"What we're looking for when we send a young person into the store is, we're asking the merchant to comply with what they're supposed to do, which is check the identification of a person," said Almeida. "It's an easy test. When these kids go in a store it should be a no brainer for the merchant, but unfortunately, that doesn't happen."
Almeida said that according to the Office of Juvenile Justice Delinquency Prevention, compliance checks are the number one way law enforcement can use to deter alcohol purchases made by youths. In a year every business from Yakima to Prosser that sells alcohol will be tested with compliancy checks.
"We want to make sure what we do is fair," said Almeida. He said that photos of the teens are "age tested" to make sure a general consensus of the public believes they are well under the legal drinking age of 21. Any that could pass for being adults are automatically eliminated from the program.
Youth police volunteers working in different communities around the Lower Valley typically will enter stores and attempt to purchase beer. If the clerk checks their identification, then everything is fine and the youths move onto the next business.
In the other scenario, youths will stand outside a business and attempt to get customers to purchase alcohol for them, which is the kind of enforcement Sue prefers.
It's mostly men who agree to purchase alcohol for her.
"Sometimes they're just going in to buy simple things like a newspaper," said Sue.
Almeida said that they weed out "good Samaritan" buyers who may believe the youths are actually 21, but lost their license and buy them alcohol. He added that they also weed out those who need money by taking a small amount of cash from the teens to make the transaction. Almeida explained that often people will buy alcohol for teens if they think they will be making a few dollars in the process.
"They will actually have to kick in some money to buy the beer," Almeida explained in which adults are targeted to be cited.
The program has been successful in catching those purchasing beer for teens, 90 percent of which have been men, he said.
A couple of weeks ago when Sue was working in Sunnyside she was able to talk a market patron into buying alcohol for her. He then tried to sell her drugs and convince her to go to a party with him. When police arrested the man he was found to be a registered sex offender, said Almeida.
"That's the kind of people who are buying alcohol for kids," he added.
Concerned with the safety of volunteers, none of the teens work businesses in their home town. They are also paired up and each teen has an undercover officer looking out for them. The teens are wired and both video and audio taped, said Almeida. They also learn a series of hand signals so they can communicate with officers in case of emergency.
The teens and participants in the Yakima County Traffic Safety task force are involved in training teen volunteers across the state. Sue is an adjunct instructor for the program. She has traveled to Snohomish to give classes to teens on how to approach possible buyers.
In Yakima County, since the start of the compliance and FAME enforcements, there has been a drop in the number of sales to teens.
Almeida said when the program started there would be three or four people cited per night, now the number has dropped to the occasional buy.
"I don't really get anybody any more," said Sue. "When I first started there were lots. It's definitely making it more difficult for teens to buy alcohol."